What a difficult market to make sense of. I need to invest some money, I am way behind in my quest to invest $100,000 in my 2017 portfolio. Moreover, my cash position has increased due to calls that were exercised last week. Where to turn from here.
Patience pays off when the stock you pick has good fundamentals but suffers a setback.
NHI is a good investment for income investors based on fundamentals
Aging baby boomers and extended life spans are catalysts to pump continued income growth from NHI
I can't make the market go down although like many other investors, it seems whenever I am anxious to invest and actually pull the trigger that is a sure sign my stock will go down. However, most well researched stocks come back; not all but most. Just look at my CAT buy in 2014. CAT when down from my buys at $79.94 and $85.30 to $56.36. Yet within the last two years it has roared back to $124.70. Or my 2017 KSS buy at $41.88. KSS sunk to $35.16 but has returned to $44.71. A review of all my portfolios reveals my strategy is not perfect, it is just good.
NHI 2017 Dividend Machine
Today I added to National Health Investors and will include NHI in my 2017 portfolio and the reason is NHI meets all my criteria.
I don't include very many REIT's as I have a lot of real estate through other alternative investments. I don't cover real estate investments per se in this blog but since NHI is a publicly traded stock and it has been such a good income stock, I am including in the 2017 portfolio.
National Health Investors owns senior living facilities, assisted care facilities and a few other types of health care oriented properties. Compared with Welltower (HCN), National Health Investors is the smaller player on the block but I prefer NHI to HCN. My reasons are mostly based on dividend growth. HCN has averaged only 3.144% dividend growth over the past 3 years.
In chart below from NASDAQ, you can see NHI is not a momentum stock. It is not going to generate 10% call premiums. You will earn your income from NHI's over 4% dividend yield. Moreover, your income will grow as NHI increases the dividend.
Baby boomers are aging and we are all living longer and this is a catalyst for growth in this sector. I have seen estimates that our aged population (over 85 years) will double by 2036. (Welltower presentation.)
NHI Revenue Growth
I bought NHI today at $79.75. Their current quarterly dividend is $.95 for an annual payout of $ 3.80 or a yield of 4.76%. All REITS by law must payout nearly all of their earnings. NHI's earnings per share are $3.89. They can easily afford to continue pay their ever increasing dividend.
I like a stock that has growing revenues. This supports the dividend growth. NHI is an active player in this space and has worked to add revenue streams while maintaining a solid balance sheet. The chart below sourced from NASDAQ shows the revenue growth at NHI. Note the 2017 value is for two quarters only.
NHI Dividend Machine Fundamentals
I mentioned NHI's strong balance sheet. This is important. A strong balance sheet provides cushion during times of duress. During the major credit disruptions of 2008/2009, NHI was able to not only maintain their dividend, they provided additional income through special dividends. I use D/E (debt to equity ratio) as my measure for a strong balance sheet. I like D/E to be 1 or less or within industry standard; NHI carries a D/E ratio of .8901.
The table below summarizes the criteria I use for inclusion as a Dividend Machine: dividend yield greater than 10 year U.S. treasury, EPS that cover the dividend, dividend growth of 4% or more over the past 3 years, and a D/E ratio of less than 1.
It is significant to note that with REITS investors often use FFO (fund flows from operations) rather than Earnings per share (EPS) when making their decision about a stock. The chart below comes from a recent presentation by NHI and includes FFO information.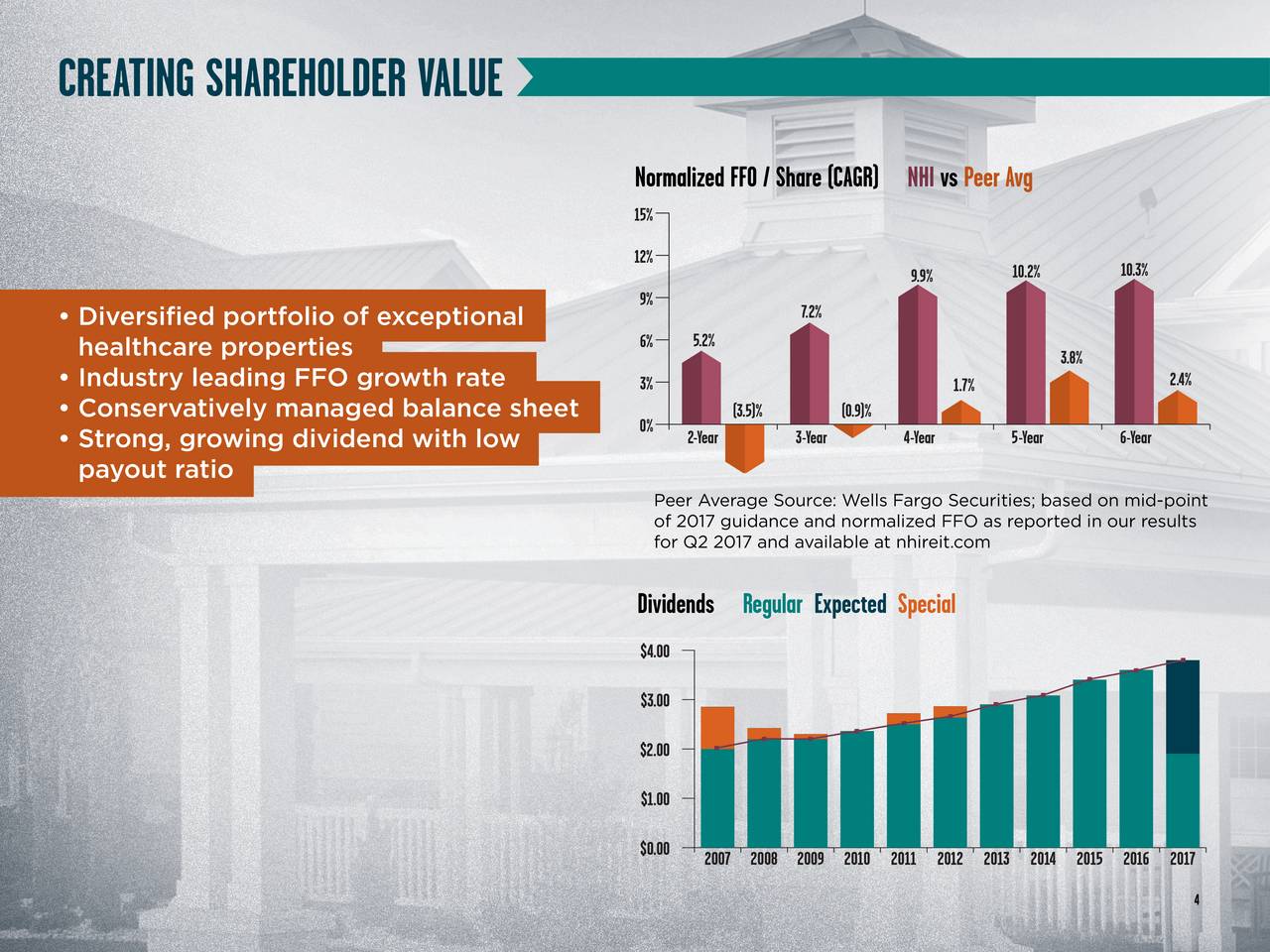 Although I do not use P/E as part of my screening criteria, I am always sensitive to value. Value is a tough measure and P/E ratio only one of many measures. NHI's current P/E (price to earnings ratio) is 20.48. Future growth expectations peg their future P/E ratio at 15.13. This P/E ratio is not extravagant like a momentum stock such as Nvidia whose P/E ratio is greater than 50. Nor does NHI's P/E ratio suggest it is cheap. By the way, HCN's P/E ratio is 22.81 with their forward ratio expected to be 17.30.
CONCLUSION
All in all, based on the catalyst of aging baby boomers, solid balance sheet, history of revenue growth and dividend growth. I feel confident adding to my NHI position and naming it as my next 2017 Dividend Machine.
M* MoneyMadam
Disclosure: Long NHI